How To Make A Good Impression On A First Date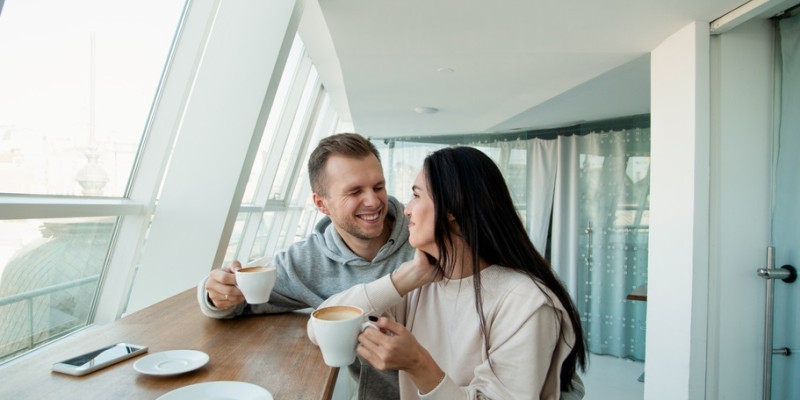 Landing yourself on a first date is crucial since the first date can make all the difference in your life. The first date has the potential to bring the transition from temporary commitment to long-term relationship or marriage. It's not only about the impression that matters but your confidence, honesty and efforts are equally responsible for the perfect first date. It can be stressful if you do not know what to do on a first date. However, it is not a rocket science and like every theoretical aspect is backed by physical laws, the successful first date also has some unspoken rules. These guidelines will be very helpful if you want to make a good impression but do not know what to do on a first date.
1. Go an extra mile:
People love being pampered esp. by opposite sex. Little preparation before the first date is always advisable. Do your homework and get all the possible information about your date beforehand. Greeting her with her favorite flowers or chocolate box will ensure a warm response. If you are female, you may consider buying an inexpensive gift for your date. If the gift idea is little creative, it will sweep your date off his or her feet and the possibility for future dates will surely increase. This is one the best suggestion if you are interested in knowing what to do on a first date.
2. Be polite:
Table manners and etiquettes are very important on the first date. You will be judged on each and every aspect. If you are dating a woman, offer to open the door for her and pull the chair so that she can sit comfortably. However, if she insists on doing that herself, respect her opinion and let her do the task. Open-up with a brief introduction and do not push your date into revealing things that he or she is uncomfortable to share at that moment. Do not include topics like sex, religion, politics, ex etc. on the first date as it can create a controversy and will leave a negative impact on the date. Include stories which do not contain any odd things (vomit or secretions) which can cause discomfort to your date.
3. Compliment:
Everyone loves to be complimented irrespective of the sex. If you are dating women, compliment her on her appearance, dress, and hair. You should understand that she has devoted a considerable amount of time to get ready for the date. Similarly, if you are dating a guy, you may compliment him on the dress/outfit or his humor (if any). This complimentary exercise will arouse a deep interest in you two and both of you will pay proper attention to each other.
4. Curiosity:
An interesting conversation is the best answer to what to do on a first date. Being a little curious about things is always better because it gives a perception to the other person that he or she is paying the attention. If you are having a conversation, pay full attention to what your date is saying. Do not constantly check your mobile phone or discuss other people while you are on a first date. Discuss hobbies, work, common interests etc. so that you two are able to develop a better understanding and bonding.
5. Non-aggressive:
Even if you are a control freak, do not show this to your date esp. on the first date. You may discuss this issue of yours with your date in future. When it is the first date, be assertive and positive in all matters. Whether you visit a fancy restaurant or a movie, do not lose your cool on any matter. Even if the service is worst at the restaurant or movie tickets have been sold out, stay positive. If you disagree on any point of discussion with your date, assert in a non-aggressive way. Avoid topics like politics, religion etc. on the first date as they often lead to disharmony because of conflicting opinions.
6. Backup plan:
A backup plan a crucial part of planning the first date itself. Always have a backup plan if things do not work out. This way you will feel relaxed and your date might get impressed by your on-spot creativity. Make sure that the backup plan includes the common interests and isn't too extravagant. When you are selecting a restaurant for the first date, make reservations in advance. Also, keep a watch on nearby restaurants in case of an issue with the first one. One of the big disasters for which you should always have a backup plan is the adverse weather. It might be sunny during the day but there is no guarantee that there may be no rain or snowfall during the night. Always check the weather forecast and if there is any possibility of rain etc., carry an umbrella for yourself and your date.
7. Leave impressed:
Last few minutes of your first date are crucial. There will be several thoughts like what the other person is thinking about me, will there be a next date etc. In last few minutes, you must sum up and leave your date impressed. Nowadays, everyone drives or rents his or own car but if your date doesn't have that option, drop him or her to their house. Do not force for anything and leave everything to your date. If he or she insists, you may go inside for a cup of tea or coffee.
Wrapping up:
Above few tips will surely help you in understanding what to do on a first date. There can be plenty of activities on the second date if you two share common interests but always plan the first date in a sophisticated manner so that both of you feel comfortable.